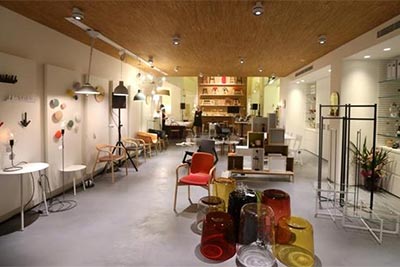 BEIRUT: Famous dead U.S. clergyman and social reformer Henry Ward Beecher once said, ?I pray on the principle that wine knocks the cork out of a bottle.?
A new lifestyle-concept store called Cork Living in Tabaris has also knocked cork out of a bottle and into your living room.Cork is a buoyant material made from the bark of a tree, the Quercus suber (the Cork Oak), which is native to southwest Europe and northwest Africa.The history of cork being used in fashion and furniture dates back centuries. In the fourth century B.C. cork is thought to have been used for women?s footwear as well as roofing material in ancient Rome. Cork would later find many uses including being utilized in military equipment in the 20th century.
The Cork Living store is based on the Scandinavian concept of simplistic furniture and brings accessories and furniture pieces from Denmark, Sweden, Italy and Portugal.
Products on display include a number of stylish seating options, small cubicle-shaped shelves that can be mixed and matched, various lighting options and much more. While not all products are made out of or from cork, the store gets its name from certain signature pieces that stylize a material famous for plugging wine bottles.The seats of stools and certain hanging-lighting options on display have the distinct look of cork that adds a simplistic yet fashionable accent to any kitchen.The most impressive and unique feature of the store, however, is their ability to cork-ify an entire room at your home ? a process that costs an average of around $20 per square meter, depending on the texture. This feature is great for creative types who want to pin all their ideas to a wall for visual purposes. Additionally, cork does wonders to soften loud noises ? a possible benefit for musicians with cranky neighbors.
?You don?t see this kind of style in Lebanon,? said Zeina Rouhana, Cork Living?s showroom supervisor and interior designer. ?That?s why Sylvie Khoury brought it to Lebanon.?
A remarkable characteristic about cork is that while stylish, it is also incredibly light and easy to move around your house. The store also performs certain services like interior design for people who want to add an edge to their homes.Products range in price ? accessories can cost upward of around $12, whereas furniture pieces like stools cost in the low hundreds range.?We present products that fit everywhere and in every style,? Rouhana said.
Justin Salhani| The Daily Star


Read more: http://www.dailystar.com.lb/Life/Lubnan/2014/Nov-26/278895-getting-creative-with-cork-cork-living-furniture-opens-in-beirut.ashx#ixzz3KBnhYhF7